Light It Up Blue
The one-act cast celebrates Autism Awareness Month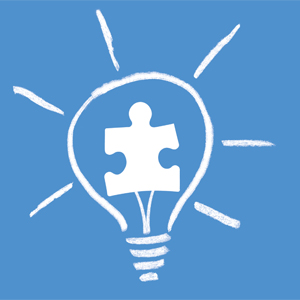 Hang on for a minute...we're trying to find some more stories you might like.
As some may know, April is Autism Awareness Month. Many families and organizations are in spirits of celebration this month, and the Wylie High School one-act play company is definitely feeling those spirits. For the past three months, the cast and crew – who are just coming off of their advancement from area to region – have been hard at work on their production of Mark Haddon's Pulitzer prize winning play The Curious Incident of the Dog in the Night-time.
This show tells the story of a teenage boy and his family as the boy tries to solve the mystery of a murdered dog on his street. The boy, Christopher, has Asperger's syndrome, and many of the obstacles Christopher faces are centered around his struggle to connect with the world and people around him. The cast and crew of Curious Incident have put forth continuous effort to accurately represent the life and symptoms of a person with a Sensory Processing Disorder, and have, in the process, become more educated on the matter and more appreciative of people struggling with a disorder on the SPD spectrum.
Three members of the company – actor Corban Gilliland, actor Eric Evans, and assistant director Jaclyn Rosbrugh – give their take on how autism has affected their own lives, what it's been like to work in a show that handles this subject matter, and why this story is so important for audiences to see in this interview.
Video filmed and edited by Anna Claire Boone. Production video credit to Kymber Pyeatt.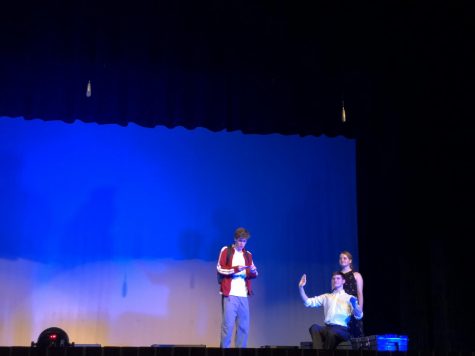 Gilliland and Evans with alternate Mattie Smith in rehearsals.
Members of the one-act play company have each been seen with autism awareness pins over their hearts when attending the awards ceremonies that follow competitions, and many will wear blue throughout this month in support of the "Light It Up Blue" awareness promotion movement. We encourage you to join us in this movement by looking into learning a little bit about the autism spectrum, attending Wylie's home performance of The Curious Incident of the Dog in the Night-Time, or simply wearing blue this month.
Photo credit to Kymber Pyeatt.
Anna Claire Boone, Staff Writer
Anna Claire Boone is a junior and a second-year staff member of the Wylie newspaper. She spends most of her time dancing with Patty Harper Dance Studios...