Bulldog Christmas Market
On December 1st I had the pleasure of visiting the Bulldog Christmas Market.  At the Christmas market, students get to set up booths to sell items that they have designed or created. These booths could be supporting a class or supporting a charitable cause.
Medlife Booth
The Medlife booth was one of the first booths I visited. This booth was selling ornaments, wreaths, floral arrangements, and gingerbread cookies. The students in the Medlife program actively volunteer for organizations and charities. One of the students I interviewed, David DePrang, said, "We also volunteer with local organizations such as the food bank, meals on wheels, and the zoo sometimes."
Big Country Caps
The next booth I visited was Big Country Caps. Big Country Caps is a student run business selling bucket hats. They are selling hats in 8 different colors as well as custom designs. They are currently taking in person orders, orders through their Instagram page, and hopefully soon, online orders. The students running this business are Nicholas Rodriguez, Dustin Cantrell, Hayden Bommersbach, Blake Noland, and Coey Stickney.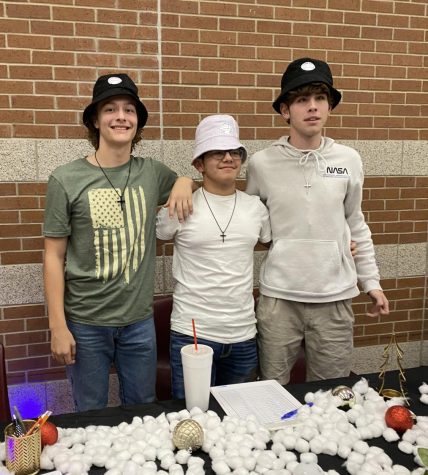 Virtual Christmas Cards
The AV students set up a green screen booth for virtual Christmas cards. You could stand in front of the screen for 5 or 10 seconds, and then they would put a background in and your virtual Christmas card would be complete.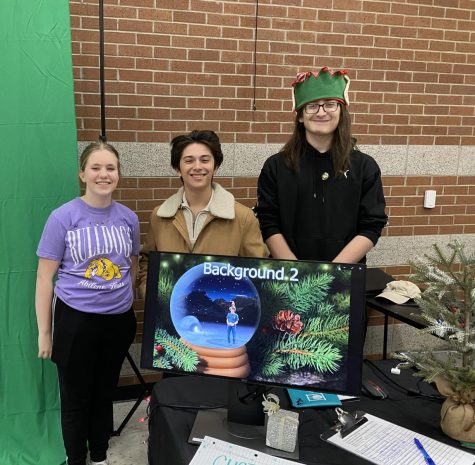 Spike's Winter Wonderland
In the library, Mrs. Jansa and Mrs. Blakey set up a magical wonderland for kids. Kids could decorate cookies, make ornaments, write letters to Santa, color pictures, take pictures with "Santa" Spike, and every half hour, they had story time.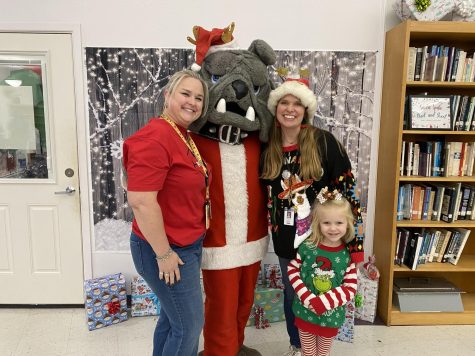 Jazz Band
The Wylie Jazz band, run by Ms. Ray, played an assortment of songs for an hour during the Christmas market. The Jazz band plays at the Christmas market every year and works hard to put on a good performance for the students and faculty. Some of the songs included, "You're a Mean One, Mr. Grinch", "The Most Wonderful Time of the Year", "Santa Baby", and "Dashing Through the Snow".
Wylie Theatre
Wylie theatre was selling Wylie Bulldog themed corn hole games. Each set included 8 bags, 4 purple and 4 yellow. Unfortunately, they were only selling at the market, but the games were flying off their shelves. The money they made went to supporting the theatre department and their upcoming plays.