Is The Nightmare Before Christmas a Halloween or Christmas Movie?
The Nightmare Before Christmas came out October 13th, 1993, and since then has held a certain place in people's hearts. The beloved flick was created by Tim Burton, film director, producer, writer, and artist. When the movie hit theaters, it was not the huge blockbuster Burton had hoped for. However, after releasing from theaters, the cult-movie critics mulled over turned into a cultural phenomenon. People use "Halloween movie" and "Christmas movie" interchangeably to describe The Nightmare Before Christmas, but what is it, really?
The answer may be in the breakdown of the movie.
The main setting of the film is Halloweentown, characterized by scary, spooky commodities. The main character is Jack the Skellington, a tall, lanky skeleton who is known as Halloweentown's pumpkin king. The conflict of the movie happens when Jack finds himself in Christmastown, which is a complete foil to the dark, edgy Halloweentown. Jack comes to a new, personal goal; to take over Christmas, and become Santa Claus. However, things don't go exactly as planned.
Through the movie, Jack and his friends learn the true meaning of Christmas, fix their mistakes, and reestablish their trust among one another- making these the main themes of the movie.
Sound familiar? Through the dark setting, the message is still the same as any other Christmas movie. Which leads us to our next point, the question you came here for: Is Tim Burton's Nightmare Before Christmas more of a Halloween or Christmas movie?
Despite the popular opinion, the flick is definitely a Christmas film. It is no surprise that the movie shares similar themes with other cheery Christmas movies because it is one itself! Many people misconceptualize that it is a Halloween film due to the setting of Halloweentown; however, the setting and the theme do not match together whatsoever. If the film was a Halloween movie, Burton would have never bothered to put in anything about Christmas in the first place.
As a Burton connoisseur, it is most definitely not in his style to depict happy, fun, joyful settings. However, he managed to mix both his creepy, crawly characters and the joy of Christmas into the same film, making The Nightmare Before Christmas a truly unique, inspiring Christmas film.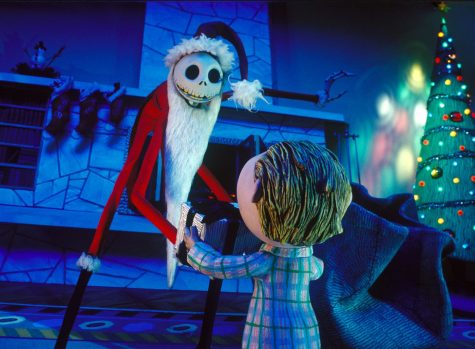 So, the next time you snuggle in with your family to watch Christmas movies, try Tim Burton's Nightmare Before Christmas! You may be surprised at the true meaning that lies beneath the spookiness!
Photo courtesy of Google Images.