Welcome Sylvia Martinez
Wylie High School welcomes our new Algebra I teacher, Sylvia Martinez!  She has been sharing her knowledge with many students since 1998. She has taught at Abilene High School for 12 years and at Wylie Junior High for 11 years. Additionally, she has taught numerous grades: 6th/7th/8th grade Investigative Math, 7th grade math, Algebra I & II, Geometry, and Senior STAAR Remediation. Overall, we are grateful to have her because of her extensive experience in teaching.
In 1988, she graduated from Abilene High School and went to Hardin-Simmons University after she already had her daughter. Although she didn't get to experience college the way others do, she dedicated herself in her studies to get her degree. Her father, who was not able to pursue academic studies himself, was also the one who encouraged her to go to college. She had a brother as well; unfortunately, he passed away two years ago, but his memories still stay with her. She also has three children, who all are married and have kids. Furthermore, she is very grateful to have a huge, supportive family.
Even though teaching was never a dream of hers, she soon learned to love it. As she expressed it, "Seeing a student understand math when they never had before is a wonderful feeling. Having a student not be afraid of math is what I love." She also absolutely loves seeing her students come back as seniors to tell her they are graduating. All in all, she loves to see how her students develop as people and in math. We can't wait to see Wylie High's future with Mrs. Martinez.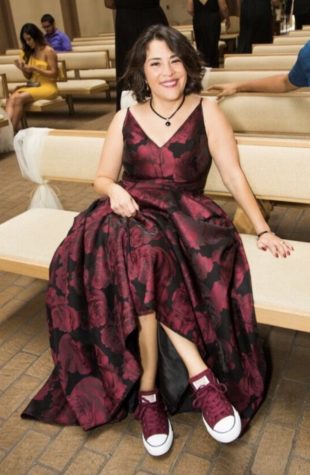 Photo courtesy of Sylvia Martinez