Wylie Theater's Three Winter Plays
Every year the Wylie Theatre Department presents a fall or winter play. This year the department is putting on three. Audiences have the pleasure of seeing The PillowMan, Steel Magnolias, and Of Mice And Men.  Three different shows. Four different casts. Three different directors. 
The PillowMan 
    The PillowMan, written by Martin McDonagh, directed by Christophor Shoemake, follows the story of a writer and his brother, as they are investigated for a series of murders that mirror the writer's stories. "It's about what you leave behind, and what's important to leave behind" (Director, Chris Shoemake).  PillowMan is primarily rehearsed during the advanced theatre class period in order to create rehearsal space for the other two shows after school. The cast is small only including four actors with speaking rolls. When asked about the experience of doing three shows Shoemake said, "We like to give every student who wants an opportunity to have an opportunity. So this [doing multiple shows] has been nice because there are so many shows that I want to do, they just have really small casts. It has been fantastic doing a show that I don't normally get to." 
PillowMan will be performed at 6:00 on Friday, Saturday, and Monday night, and 2:00 Saturday afternoon in the black box. Due to limited seating in the black box, audiences need separate admission to PillowMan. A Steel Magnolia, and Of Mice and Men ticket is not transferable for PillowMan, but a PillowMan ticket is good for all three shows.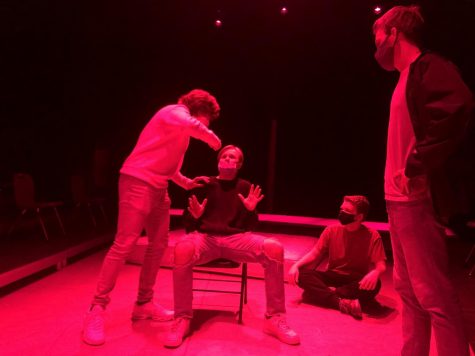 Steel Magnolias
    Robert Harling's stage adaptation of the familiar tale of southern women learning to live and laugh through hardship in the quaint setting of a beauty shop, is directed by Jaclyn Rosbrugh. The play primarily centers around Shelby and her mother M'Lynn, negotiating Shelby's extreme case of diabetes with their strong support system of ladies. Referring to the story and the heart of the show, Rosbrough said, "Magnolias are something that should be so delicate and beautiful. Steel is something that's hard and almost unbreakable. To put those together you create these characters that are fragile and gorgeous, but they can't be broken because of the world around them and their lifestyles." The strong intelligent women in this play create a profound sense of nostalgia, especially for southerners, reminding audiences of their grandmothers, mothers, sisters, daughters, and cousins. 
    When the department originally auditioned students for the shows, they did not expect such an overwhelming response from the young women. Because there were so many talented girls who auditioned, Rosbrough said that "We [all the directors] decided the best bet would be to give more opportunities by having two casts." 
Steel Magnolias will be performed on the main stage at 7:00pm Friday, Saturday, and Monday, and 2:00pm on Saturday. The "Blush Cast" will perform Friday evening and at the Saturday Matinee. The "Bashful Cast" will perform Saturday and Monday evening.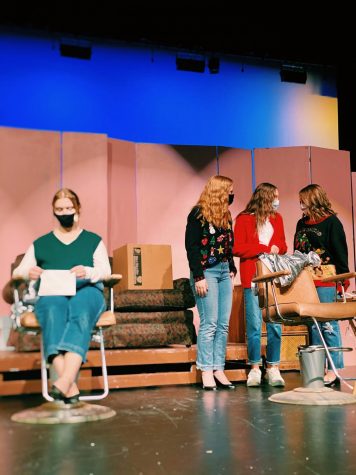 Of Mice and Men 
    In the literary classic Of Mice and Men, directed by Justin Holland, audiences experience the story of Lennie and Gorge. Author John Steinback describes Lennie as large, overly strong and "simple minded." "He's a large guy who doesn't understand his own strength" (director, Justin Holland). This quality of Lennie's gets him into a series of accidents he had no intentions of causing, creating problems for the pair. This play takes the audience on an emotional journey with endearing characters, funny banter, and heartfelt connections.
    Holland is very proud of how diligently his cast worked and how well they cooperated with the other casts. "People should come see the show mainly because of the students that have worked so hard to put on these shows." Of Mice and Men is on the main stage, and they share that with Steel Magnolias. One might assume that sharing a stage could cause conflict, but Hollind says it's quite the opposite "Throughout our department we've really seemed to come together, and we've been able to help each other as well."  
    Of Mice and Men will start at 8:00pm Friday, Saturday, Monday night, and 3:00pm Saturday evening.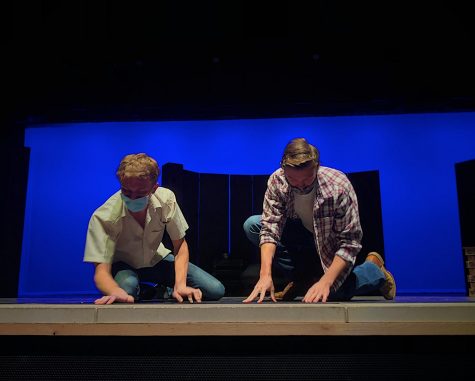 Each show will run roughly 45-60 minutes, with The PillowMan first, followed by Steel Magnolias, then Of Mice and Men. Tickets are five dollars, and they can be bought at the door. To reserve tickets call (325) 690-1181 (extension 2020), or email [email protected]