Texas Snow Day!
It's not everyday a Texan can look outside and see a winter wonderland outside their window. Just this past weekend, parts of Texas and Louisiana experienced heavy snowfall, many locations in the South were left with almost a foot of snow. Here in Abilene, the official total was 5.3 inches of snowfall, which according to KTXS did not exceed the record for 5.5 inches set back in 1973 (https://ktxs.com/news/local/sunday-snowfall-totals). Record breaker or not, the snowfall was the perfect consistency for building snowy creations: snowmen, snow angels, snowballs, and igloos galore!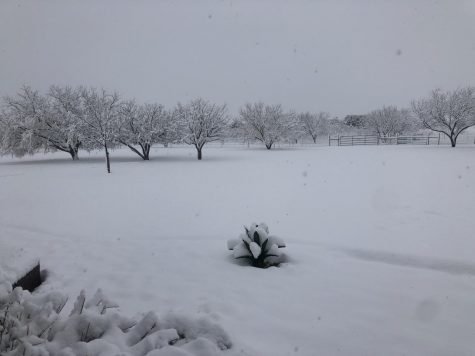 Sunday's snowfall courtesy of Mychele DeLauney
As a side note, please remember to keep the safety of yourself and others in mind when driving in unfamiliar road conditions. It's easy to forget the dangers of icy roads when you live in Texas. When driving or going outside in icy, snowy conditions, it's always good to be more cautious than you normally would; this is especially true for newer drivers. Stay safe!