Wylie Cross Country Team Has Successful Season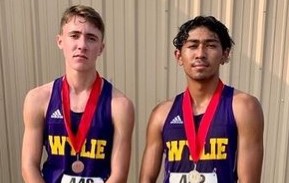 After hours and hours of hard work and dedication, the Wylie cross country team's season came to an end at the UIL 5A regional meet.
Before the cross country season even started, there was a big change in store for the team: They would be getting a new coach. JV basketball coach Jody Harvey would be filling in for Coach Balleza, who decided to focus on coaching soccer. Although it was his first time coaching cross country, Harvey has had experience coaching track and field and knows what it takes to be a successful runner. Wylie Junior Avery Stevenson-Waller says coach did a great job preparing the team for competitions. "He made sure that we felt ready and prepared for all of our races," she said. "He made us feel confident as a team."
The Bulldogs began training at the end of the summer, with practices starting early each day. When school began, they ran even earlier, on most days the team began practice at six in the morning. Although it may seem a bit extreme to some, the Bulldogs continued to get better each day, and every member's time improved as the year went on. "It was really cool to see everyone's improvement," said Stevenson-Waller. "It was special to see us continuously grow and get better as a team."
After several meets, the Bulldogs were prepared for the district cross country meet, where they faced dozens of other runners from Cooper, Aledo, Wichita Falls and Wichita Falls Rider. Although the competition was tough, four members moved on to individually run at the regional meet in Lubbock: Victor Charo (sr), Payton Stone (fr), Mariana Deynzer (sr), and Allie Allen. These four runners performed well at the meet and while they didn't move on, there is no doubt that they made their Wylie family proud.
Although there were definitely some obstacles in their way, the Wylie cross country team remained focused and determined all season long. There is no doubt success in store for them for seasons to come.