A Very Official Ranking of Christmas Movies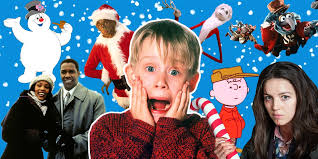 Tis the season for holiday joy and amazing Christmas movies! Thankfully, every year Freeform drops a schedule of movies to play for their big Christmas event, 25 days till Christmas. Since I am clearly an expert in all things Christmas and movies, I decided to rank the movies they plan on showing this 25 Days till Christmas so you can decide which ones you might be interested in watching while doing all of your fun, festive holiday traditions. Enjoy! 
Coming in at dead last is Deck the Halls. Now I know it's kind of a bold accusation to say that a movie with Danny Devito in it is bad, but sadly, this one just is. When I first saw Danny Devito's name on the schedule, I thought for sure this would be a new holiday favorite. However, the fact is the storyline could easily be summed up into a 30 minute short as opposed to an HOUR AND THIRTY MINUTES. Overall I'd say watch this movie for when you want background noise during Christmas cleaning, not when you are trying to enjoy hot cocoa by the fire. 
Up next in 13th place we have It's A Very Muppet Christmas. Now I love the Muppets, I really do. The song "Muppet or Man" brings tears to my eyes, and I'll always believe that Miss Piggy wasn't good enough for Kermit. However, sadly, It's A Very Muppet Christmas is just one of those movies that's easily forgettable. If you do, however, like the plotline, watch It's A Wonderful Life, which is the film A Very Muppet Christmas is based on. Now that's a holiday classic. 
In 12th we have The Santa Clause 2. This movie is just another example of why 9 times out of ten, a sequel is bad. The original The Santa Clause is cute and funny, but this one missed that target entirely. I mean when you really think about it, the idea that Santa has to be married and chooses his son's teacher (which his son clearly isn't comfortable with) isn't exactly heartwarming and "Christmasie". To top it all off, how is it that the elves, aka makers of toys, can't dissemble Toy Santa when he goes all off script and evil? Just something for y'all to think about. 
 Please know that this is not going to be me just bashing sequels and I love Macaulay Culkin very much, but like comedian John Mulaney greatly pointed out, Home Alone 2 just doesn't make sense, and that's why this movie takes the 11th slot. The entire time Kevin could've just booked a cab to a police station so he could be found, or do the impossible, and find a map and walk to the nearest station! Despite this logic and slight ruining of a classic holiday movie for me (Thanks for nothing John Mulaney), I still love Harry and Marv, so I'm willing to keep this movie on while I decorate or bake. 
Up next in 10th place is The Santa Clause 3, which surprisingly saves the trilogy for me! I liked Jack Frost as a villain and whoever came up with the genius title "Escape Clause" deserves a raise. Overall a pretty good movie that I highly recommend watching (just do what I do and pretend like the second movie doesn't exist). 
In 9th we have A Nightmare Before Christmas. I love this movie, and I love Tim Burton, but this movie is more of a Halloween movie for me than a Christmas movie, so that's why it doesn't get too far up this list. I still think you should watch it though (preferably on Halloween) if you haven't seen it yet. You will not be disappointed! 
Seeing as how this is a very fact-based, unquestionable ranking of holiday movies, it is not biased that the next few movies on this list will be from one of my favorite production companies, Rankin Bass. This was a very hard thing for me to do, but in 8th place, we have Frosty the Snowman. Frosty is a charming snowman with a charming story (overlooking the whole reckless fun parent behavior from time to time), so the only reason he doesn't make it higher up the list is thanks to his superior winter trademarks, Rudolph and Santa Clause. 
Taking 7th place is Rudolph the Red-Nosed Reindeer. Now I will say it's kind of disappointing that the other reindeer don't respect or love Rudolph until he becomes famous thanks to Santa (your popularity does not define your self worth Rudolph), but nevertheless, the reindeer flew around the world and saved Christmas, so he deserves the honor of being high up on this list. 
6th place goes to my favorite, and now yours, Rankin Bass film, Santa Clause is Comin To Town. This movie tells the tale of how Santa came to be Santa, and it's nothing short of adorable. I should do the right thing and warn you though that it is a musical, so if you don't particularly like musicals, just fast forward through the jingles because the storyline is still fantastic! 
In 5th is The Santa Clause! I actually watched this movie a few days ago just to make sure that it deserved being high up on this list (an extensive amount of research went into these official rankings) and even now this movie is a must-watch for this Christmas season! It's just one of those feel-good movies that doesn't need to have this crazy "I need to know what happens next right now" plotline to be a good holiday film. 
4th place goes to the movie, The Holiday. Why? Jude Law. 
In 3rd is How the Grinch Stole Christmas, but not the garbage 2018 version. No, I'm talking about the one with the legendary Jim Carrey and an endless amount of lines that live rent-free in my head. "BRILLIANT! You reject your own nose because it represents the glitter of commercialism. Why didn't I think of that? Cut, print, check the gate, moving on." (How The Grinch Stole Christmas, 2000) 
2nd place goes to Disney's A Christmas Carol. This movie was so close to getting first just because I'll always appreciate Dickens' tale, but at times the animation was a bit (and by a bit I mean a lot) creepy, and I still have nightmares from that scene where the children come out of the second spirit's feet and attack Scrooge. Why on earth is this movie not rated R instead of PG for that scene alone?!
Now for the moment I know all of you who were just bored enough to read through this entire list have waited for. In first place, the "holidayiest" classiest movie of holiday classic movies goes to the one and only, Home Alone. This movie is just comedy gold, and somehow I can watch it multiple times every single Christmas and never get over Marv getting a swift strike to the face by a burning hot iron. Gotta love a feel good movie, right? 
Like I said the movies presented on this list were the movies that will be played non-stop during Freeforms 25 Days Till Christmasm, so all of you can have the chance to watch one that you haven't seen before! Merry Christmas everyone! 
Disclaimer: It is a crime to disagree with my rankings.
About the Writer
Bonnie Horn, Staff Writer
Bonnie Horn is a junior at Wylie High School. She is involved in Student Council and Student 2 Student. She aspires to be a screenwriter and is absolutely...