Varsity Tennis Undefeated at 12-0
Extracurricular groups across the board have been affected by the uncertainty surrounding this school year, but our varsity tennis team appears to be unfazed. 
When tryouts began in early August, it quickly became apparent that the team would be packed with top-notch athletes. Returning seniors, juniors, and sophomores hit the courts once again to earn their ranks, but this time, they found themselves facing fierce opposition from below. For these upcoming freshmen, this was the first taste of high school competition. The grueling process was every bit as challenging as one might expect, but for the five freshmen who stood their ground, it was certainly worth the effort.
Suhejla Qinami is ranked number eight on the varsity girls' ladder, followed by Truleigh Conover at nine. On the boys' ladder, Sanay Salvi is ranked number seven, and Brandon Cowling is ranked number nine; the prodigious Trevor Short climbed all the way to the top of the ladder, securing his rank as number one.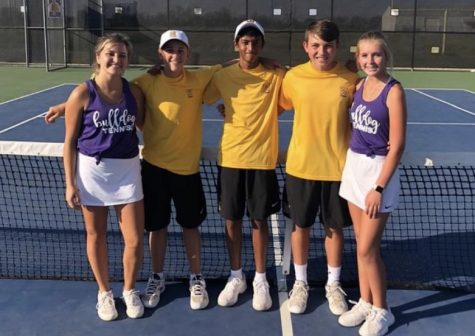 ---
Because so many strong players graduated last year, there was no way to truly know how the team would operate until it was time to compete. However, they came out of the gate even stronger than expected, blowing San Angelo Central out of the water 19-0. 
From Big Spring to Wichita Falls, these athletes have proven themselves to be exceptionally consistent, playing just as well on the road as they do at home. Although some opponents put up more of a fight than others, the Bulldogs are always up for a challenge. It is clear that their persistence and flexibility have paid off; in a month of matches, the team has claimed every victory!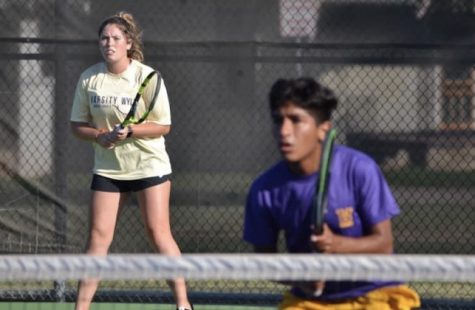 The most recent of these victories was pocketed on Monday, October 12. Despite it being a school holiday, the Bulldogs traveled more than two hours to compete in Vernon. They played hard and, in all, lost only three out of nineteen matches. This solidified an impressive record of 12-0.
On Saturday, October 17, the team will face off against both Lubbock Cooper and Lubbock High. These matches, which count toward District, are something that you do not want to miss. The matches will take place on our own courts, so be sure to come out and show some love for these awesome Bulldogs!
About the Writer
Allison Vogt, Staff Writer
Allison Vogt is a junior at Wylie High School. She loves learning about different cultures, spending time with her family and friends, trying new things,...