Bulldogs Back in School
    Summer is over and school is back in session! But what does the new 2020 school year look like? With 2020 being the first year in a hundred to experience a mass pandemic, several changes were put in place to help prevent catching and spreading viruses and still accommodate students wanting to receive an in person learning experience. All changes to the school policies and regulations are in place to increase the health safety and of all students and staff members. That brings up the question, what does the typical school day look like now with all the new alterations, and what about students who opted to receive an online education? 
    A day in the life of an online student! The morning is very similar to a normal school day morning ritual: wake up, eat breakfast, and get ready for the day. Only instead of getting in the car to drive to school, we open up our computers and login to schoology. All assignments are communicated through online platforms and students are given twenty- four hours to finish the days worth of assignments. Then all finished work is turned in via email or submitted through google classroom or schoology. As expected, with this year being the first for Wylie to offer an online program, the typical day for an online student has its ups and downs. Junior, Amy Totoe, says, "One thing I like about online school is the flexibility; I can do what I want, when I want." Amy goes on to say, "One thing I don't like is that we have to email teachers questions; we can't just raise our hand." It seems that a few other online students share the same thoughts. Junior, Preciosa Tovar, says, "I like the fact that I can manage my own schedule in a way that suits me best." Following that statement she says, "It's a bit difficult to have to wait for an answer to any question I might have. I can't simply go to the teacher and ask." Another student says, "What I do like is that we're able to do our assignments at our own pace." As an online student myself, I can't help but agree with them. Going to school through a computer is definitely going to take some getting used to, but with time, it will get easier to navigate and learn over an online platform. 
    On the other hand, students making the trip to school in person, have their own set of new rules and experiences. Gabriella Poradek says, "There's a lot of new unconventional seating; it's hard not being able to sit with all of my friends in one lunch table like we used to." Dayra Figureoa expresses that, "It's weird to have less group activities and have to use hand sanitizer all the time." Kaitlyn Booth simply says, "I'm just excited to be back in school with my friends."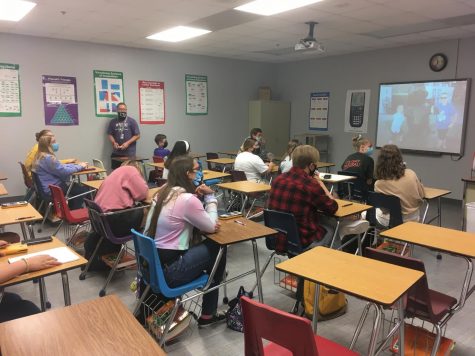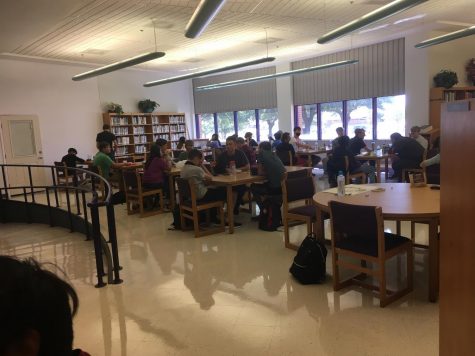 (All above photos courtesy of Gabriella Poradek)
It's safe to say that both online and traditional students have a lot of changes to adjust to this new school year. But in the end, with luck, everything will work out smoothly for both online and in-person learners.