What'll It Be, MLB?
The Return-To-Play Proposal, the Disputed 50-50 Split, and MLB's Long History of Perseverance
Countless fans across the country experienced whiplash when, for the first time in American history, the sports world was jarred to an indefinite standstill. As of Thursday, March 12, the rest of the National Basketball Association (NBA) season was suspended until further notice, along with the seasons of the National Hockey League (NHL) and Major League Soccer (MLS).
However, many people were far more alarmed when Major League Baseball (MLB) followed suit. Why? Because MLB has always been there, even in some of the toughest times that our nation has ever seen.
Throughout the Great Depression, millions of struggling Americans tuned into each MLB game. Along with helping people take their minds off of their hardships, listening to these games bred hope, provided a sense of normalcy, and allowed fans to be part of something bigger than themselves.
Despite the smothering gloom that had fallen over the entire country, players took the field with as much enthusiasm as ever. They played for America, not for the Yankees or the Red Sox, and certainly not for the money. Unless you are a baseball buff, you may not have realized that both Babe Ruth and Lou Gehrig, two of the greatest baseball legends of all time, played through the Great Depression. Clearly, their considerable pay cuts were not reflected in the amount of effort they put forth; if anything, they only played harder. Ruth and Gehrig poured their hearts into each inning, setting records left and right for an audience who they could neither see nor hear, but who needed them more than ever.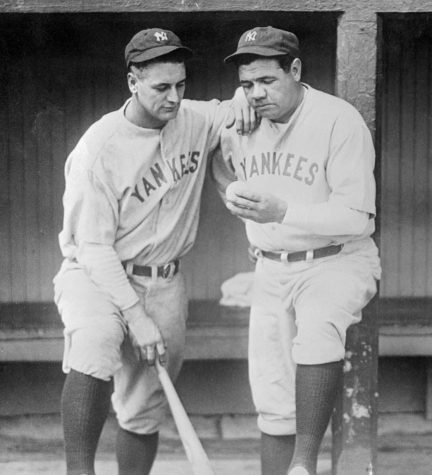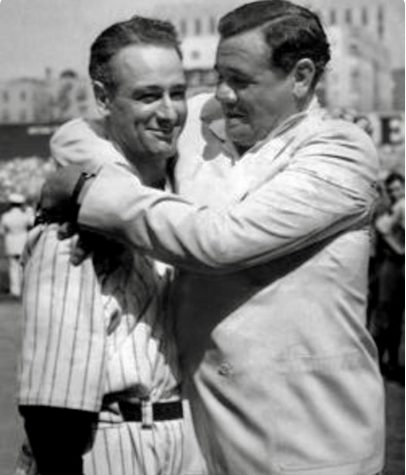 The steady presence of MLB games, as well as that of influential hotshots such as Ruth and Gehrig, played an indirect yet significant role in pulling the American people through the Great Depression. In the years since, leagues such as the NFL and NBA have wormed their way into our hearts as well, but MLB remains "America's Pastime."
Of course, this pandemic is markedly different from the Great Depression, and one obvious difference is that even professional sports seemed to have fallen as yet another fatality of the virus. Unsurprisingly, the whole nation was shaken; America was already on edge, but the seemingly-overnight loss of sports stripped away yet another source of normalcy. In recent weeks, though, we have seen some promising signs of life within the industry that we all know and love.
Some of the latest national league developments have surfaced from MLB. Opening Day was initially set for March 26, but COVID-19 had a later date in mind. Just what that date would be, however, has been widely disputed by MLB fans, athletes, and owners alike. 
"We want to put a good product on the field, but that's totally secondary to the health of the players. We [MLB athletes] are generally younger and healthy, but that doesn't mean our staff is, and that doesn't mean the umpires are going to be in the clear," Andrew Miller told ESPN. Miller is an executive member of the MLB Players Association (MLBPA), as well as a reliever for the St. Louis Cardinals. 
Many players have serious concerns about returning to the diamond. One such concern was voiced by a player on the Cleveland Indians on a team video call. He raised the question: "What happens if we come back, and a player tests positive?"
League officials considered a variety of possible ideas to reduce the risk of exposure, such as holding all games in a few "hub" cities or quarantining all players in Arizona, but the holes poked in these plans prevented them from floating. However, one plan has emerged that might just float. On Monday, May 11, MLB owners accepted the multifaceted "Return-To-Play Proposal."

ESPN baseball columnist Jeff Passan has summarized the key points of the proposal as follows:
➵ A 50-50 split of revenue from the 2020 season
➵ An 82-game schedule instead of the standard 162
➵ A mid-June "spring training" and early-June Opening Day
➵ A 14-team postseason rather than the typical 10
➵ Games played in home stadiums where allowed
➵ Designated hitters in the American and National League
➵ Games against only divisional and regional opponents— i.e., AL West teams, for example, play AL West and NL West Teams
➵ Expanded rosters from 26 to as many as 30 active players with a 20-man taxi squad of minor league players and prospects
➵ No fans in stadiums to begin the season
Passan went on to say, "It's also important to recognize this is an initial proposal that serves as a starting point for any return-to-play scenario and will necessitate a rigorous back-and-forth with amendments galore before it satisfies both parties." (You can read his full article on the subject here.)
Players have not been receiving the proposal as warmly as MLB owners might have hoped. Their main opposition is to the financial aspect of the plan, which has been suitably dubbed the "50-50 Split." The owners have expressed that because the season will only consist of 82 games rather than the standard 162, players should be paid that percentage (50.6%) of their salaries, essentially splitting the revenue between players and the owners. 
This sounds fair enough, but it isn't quite that simple. Other leagues, including the NFL and the NBA, customarily employ revenue split systems. One critical factor in the success of these intricate systems is the use of salary caps. Such ceilings do not exist in MLB; if the league was to implement them now, it would result in many salaries being whittled down even further. 
As voiced by the MLBPA, players feel that because they have already negotiated and contracted their 2020 salaries, their compensation should still be upheld regardless of the pandemic's effect on the season. The owners, on the other hand, believe that this expectation is not realistic during—say it with me, everyone—these unprecedented times. It would appear that they have a rather convenient loophole, too. The owners claim that, due to the phrasing used in the official 50-50 Split arrangement, player wages would be subject to "renegotiation" in the event of games being played in empty stadiums. (This is more of an inevitability than a possibility at this point, which is one reason why many players and fans have perceived the agreement as disingenuous.)
MLBPA Executive Director Tony Clark warned the owners that players would not agree to the 50-50 Split. His sentiment is shared by esteemed baseball agent Scott Boras. 
"If you alter the foundation the integrity would be compromised and that's what players would object to," Boras told an insider at MLB Network.
The business side may not be the face of the industry, but like any business, MLB couldn't function without revenue— and that's exactly the problem. A sizable chunk of their annual revenue comes directly from the pockets of game-attending fans. It makes sense; if you've ever been to any type of professional sporting event, you know that the tickets, concessions, and merchandise can really add up! With attendance either curtailed or prohibited entirely, that portion of the league's income will take a massive hit, which will in turn have a considerable impact on its overall revenue. The owners naturally want to fill that financial gap as quickly as possible, so they have looked to their largest expenditure: player salaries. (Hence the "renegotiation" attempt.)
Thankfully for us fans, canceling the season would be harmful to both sides, so it's quite unlikely that it will be called off. For that same reason, the dispute is expected to reach at least some level of resolution relatively quickly. From there, the issue of safety will probably return to the forefront again, but establishing player salaries will move us one step closer to Opening Day. Despite all of the uncertain and controversial conditions of MLB's return, one thing does seem to be set in stone: the season is coming.
Here are some important takeaways:

➵ Sports are not dead after all. They can be delayed, but not defeated.
➵ As evidenced by MLB, the return of professional sports will not be smooth sailing, but that's alright as long as they get back out on the water (sensibly).
➵ Whether on the professional level or the high school level, we have taken sports for granted as something that will always be there.
➵ Now that we've had to live without them, we will appreciate sports so much more when they do come back!
America and MLB survived the Depression together, and they will pull through COVID-19 together as well. Our other sports will be back before we know it, too. Football, basketball, soccer, hockey— they'll all bounce back, just like us.
About the Writer
Allison Vogt, Staff Writer
Allison Vogt is a junior at Wylie High School. She loves learning about different cultures, spending time with her family and friends, trying new things,...