What They'll Carry
After an exhausting yet exhilarating season, these Bulldogs are heading off the court for some well-deserved rest. Although they wish it hadn't ended just yet, this season was undoubtedly one to remember.
It all began with their first non-conference game, which took place in our very own gym on November 19, and the team was certainly ready; they defeated Midland's Robert E. Lee High School with an impressive twenty-point spread of 63-43.
After that, the Bulldogs slipped into a brief losing streak, but they had no intention of letting it stick. They poured in hours of conditioning and drills, jump shots and layups, but it all paid off. Before long, they'd combated the losses with five consecutive victories.
From there, like any good adventure, it consisted of what was described as "ups and downs." A loss here, a victory there, all serving to pave one unpredictable road. By the time their first conference game rolled around on January 17, the team knew that they were in for a wild ride.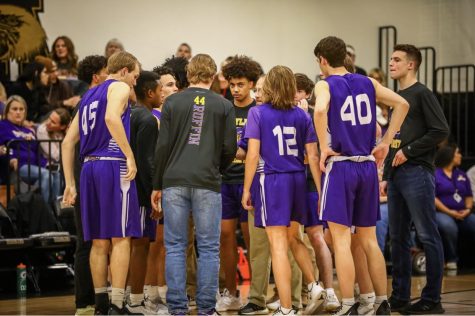 The boys' official season proved to be just as unnervingly erratic as the games prior to it, but remarkably, their feathers remained unruffled. It was this mental stamina, combined with the insatiable drive to better themselves as a team, that gave them a unique, inherent edge over their opponents.
"We all showed up and worked our tails off," one player described. "We got better as a team each and every day."
With just one glance at the Bulldogs' district schedule, it became clear that they had drawn the short straw. The layout was far from favorable; they were stacked against some very tough teams. Even so, the boys knew that they had received just as fair of a shake as anyone else.
"We all kind of thought, 'it is what it is,'" another player explained. "Why waste time complaining about something that you can't change, you know?"
In this team's case, however, resignation did not mean submission; even if they knew it was a losing battle, they saw no reason not to go down fighting. They were resolute to press on as hard as they could, for as long as they could. And, above all, to have some fun in the process.
"At the end of the day, it's just a game," a member of the team commented. "If you aren't having a good time out there, why play at all?"
In spite of the odds, our Bulldogs claimed the fourth seat in our district and advanced to the playoffs, where they finally met their match against notorious Amarillo High.
"The season ended up not going as well as we wanted," one player concluded, "but we fought hard all the way through and never gave up."
That alone is an outstanding feat, one which few teams today can truthfully say of themselves.
I am willing to bet that, a decade or two down the road, most of these boys will not be carrying tarnished medals from their high school basketball days in their wallets. No, the medals will be tucked away in an attic drawer, beneath a shelf of dust-coated trophies and a faded tassel.
However, I can promise that what they will carry with them will neither tarnish nor fade. Time, for all of its ability to blur lines once drawn so definitely, will never be able to smudge the things this sport has ingrained in them:
The endurance needed to finish strong,
The responsibility to do their part,
As well as the faith in others to do the same,
The pride that comes along with being part of
Something bigger than themselves,
The integrity to accept what cannot be changed,
The dignity to do so with grace,
And the discipline to show up anyway.
So they say goodbye to the gym which seems to have become a second home, to the electrifying energy that can be only found in a high school huddle, to the feeling of jogging off the court among friends after a particularly good game—some for now, some forever.
For seniors Stran Blair, Payton Brooks, Shayden Payne, and Conner Ruffin, this season was their final tribute to the sport to which they have given so much, and which has given them so much in return. 
Now, it's time for the team to retire their worn basketball shoes and take on other pursuits. Some players will be lacing up their cleats and heading to the baseball field or the track, while others will be committing their spare time to activities outside of the sporting world.
But no matter what, you can count on one thing—the team will be back before you know it.
(Photos are courtesy of WylieSports)
About the Writer
Allison Vogt, Staff Writer
Allison Vogt is a junior at Wylie High School. She loves learning about different cultures, spending time with her family and friends, trying new things,...