20 Ideas for Spring Break 2020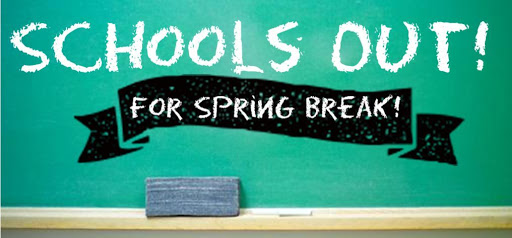 Let's face it. Everyone always makes big and fun plans for Spring Break and nine times out of ten you just end up staying at home with nothing to do. For those of you who will be staying in Abilene over Spring Break, here is a list of 20 things that you can do without having to leave Abilene!
Grace Museum
This charming museum, located on Cypress Street in the downtown area, houses 5 art galleries with unique paintings, sculptures, photographs, etc. as well as several historic artifacts special to Texas! The Grace Museum costs six dollars for adults, three dollars for senior citizens, military members, and students, and is free for children ages 3 and under. The Grace Museum is definitely worth the quick trip downtown this Spring Break!
      2. PrimeTime
PrimeTime, located on Loop 322, is arguably the best entertainment center in Abilene featuring an arcade room, escape room, bowling alley, mini golf green, go cart track, laser tag arena, motion theater and several other thrilling attractions! Plus, they have a wide variety of drinks and delicious food. Rates are listed below.
Bowling: $5.00 per person for 1 game during the week, $6.00 per person for 1 game on the weekend, $23.99 per lane for 1 hour on the weekened (shoes are $2.99)
Mini Golf: $6.00 per person for 1 course, $7.50 per person for 2 courses
Go-Karts: $7.50 per person for 1 race (riders of two seaters ride free)
Batting Cages: 24 balls for $2.00, 1 hour for $30.00
Laser Tag: $7.50 per person for 1 round
XD Theater: $7.50 per person for 1 simulation
Bumper Cars: $4.00 per person for 1 ride
Billiards: $6.00 per table for 1 hour
Arcade Games: $.50 and up
PrimeTime Island: $8.00 unlimited play (all day)
        3. Max Air
Max Air, located on S Judge Ely Blvd, is a massive trampoline park with several attractions, such as a zip line, ninja course, dodgeball arena, and rock wall! Max Air prices for people ages 7 to 18 are $10 for one hour, $13 for two hours, and $16 for three hours.
       4. Abilene Zoo
The Abilene Zoo hosts over 1,000 animals and represents 250 different species. The Zoo has 8 different exhibits, including Girrafe Safari, the Wetlands Boardwalk, the Reptile House, and Caribbean Cove. The Abilene Zoo is located on Zoo Lane and the prices are $12 for children and $14 for adults.
       5. Frontier Texas
Frontier Texas displays The Old West with modern technology in an exciting, interactive way. You can learn the story of the old west through a 90 minute hands on experience called "Blood and Treasure on the Frontier." Holographics of buffalo stampedes, wolf attacks, and show downs are around each and every corner of the museum. Frontier Texas is located on North 1st street and the prices are $6 for students and $10 for adults.
      6. Go Antiquing!
You can find tons of treasures and vintage collectibles in the dozens of antique stores in Abilene. My personal favorite antique stores are listed below.
Classic Collections

Antique Station

Rust and Roses

Chick N Tree
Happy Antiquing!
      7. Go see a movie
A classic option for a quick getaway out of the house is going to the movies. Have fun sneaking in cheap candy from the convenience store!
      8. Tour a College
Abilene has tons of colleges for you to drop by and visit and with all the free time you'll have over Spring Break, you can tour a campus for as long as you like (just don't stay overnight)!
       9. Go Shopping
The Mall of Abilene has a wide variety of clothing stores, and Spring Break is the perfect opportunity for you to put away the winter coat and get new spring clothes for back to school!
      10. Paramount Theatre
On March 13, the Paramount Theatre, which is located on Cypress Street, will be playing the beloved Disney movie, the Lion King at 7:30 pm. Tickets are on sale now!
      11. Play Faire Park
Located on North 2nd Street, Play Faire provides not one, but two mini golf courses and frequently plays live music. Play Faire Park is super affordable, charging only $6 per person ages 12 and up.
       12. Drive In Movie
You can travel back in time this Spring Break by going to to the Town and Country Drive In Theatre located on Vogel Street. The Drive In is open Thursday, Friday, Saturday, and Sunday nights and hosts double features on Friday and Saturday. Tickets are $8 for adults (13+).
        13. Go to a friend's house
Hopefully you won't have to pay a fee to do this option!
       14. Go downtown
Grab a couple of friends who are also stuck in Abilene this Spring Break and head downtown! You can grab a nice cup of coffee from Monks (located on Cypress Street) and take a few Instagram worthy pictures next to the pretty buildings and statues.
      15. Painting with a Twist
Located on South Willis Street, Painting with a Twist is a fun way to bring out your creative side! Prices range depending on the painting, but taking home a painting that you'll actually be proud to show your parents makes this trip absolutely worth the price!
      16. Fort Phantom
Take a self guided tour through this historic site. With not too many structures still standing, this is definitely a historic treasure worth visiting.
       17. Morgan Jones Planetarium
This hidden gem is great for any astronomy lovers! Exhibits include moon rocks, telescopes, astronaut suits, as well as visuals of shooting stars, planets, and asteroids! The planetarium is located on North Mockingbird Street and the price for students is $2 and adults $3.
      18. Go to Red Bud Park
Located on South 32nd Street, this is a great place to have a nice picnic with your friends and family. Bonus points if you cook the picnic food yourself!
      19. Dog Park
For all you who own a dog, the Camp Barkley Dog Park, located on Zoo Lane, is a great way to have fun with your best friend! The park has an one acre lot for small dogs and two acres for large dogs!
       20. Sleep
This is what I will be doing this Spring Break! Honestly, with the amount of school work that we all have done since January, we deserve to take this week off and relax.
With all these things listed above, there is no reason why you can't spring into action this Spring Break!
Have a Happy Spring Break