Wylie's Miraculous One Act Journey
Photos Courtesy of Ben Burke
The Miraculous Journey of Edward Tulane follows the story of a china rabbit, named Edward, who finds himself quite extraordinary.  As he is passed from owner to owner, he slowly learns the importance of love through the losses of the ones he grows to care about.  The story shows Edward and audiences that "If you have no intention of loving or being loved, then the whole journey is pointless" (Author: Kate DiCalillio).
The show is adapted from the popular children's book of the same name.  The book was written by Kate DiCamillio, and in 2008, Minnesota Opera created a stage adaptation, and later Dwayne Hartfors adapted Edward's story into a play.  Wylie's One Act Play production of The Miraculous Journey of Edward Tulane is directed by Christoper Shoemake together with Jaclyn Rosbrough, the Assistant Director, and Justin Holland, the Technical Director.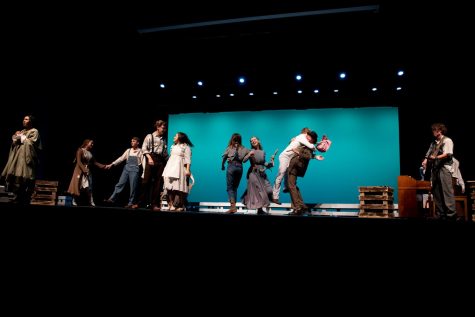 The cast will compete in their district tournament March 5.  If they advance, they have the chance to go to bi-district, area, region, or even state.  Anna Claire Boone, who plays Pellegrina and The Traveler says, "There's a lot of pressure because I'm in the grade that has experienced going to region, going to state, only making it to area, and also witnessing the change from the cafeteria stage to the amazing Performing Arts Center that we get to work in today.  I'm excited to keep evolving this show and take this story to competition."  Boone closed in saying, "I think it's important to hear, and it's a story that everybody can find themselves in." In this beautiful tale of lost hearts finding a home, it is practically impossible not to fall in love with the story and the lovely characters that all of the students are creating for the audience to fall in love with.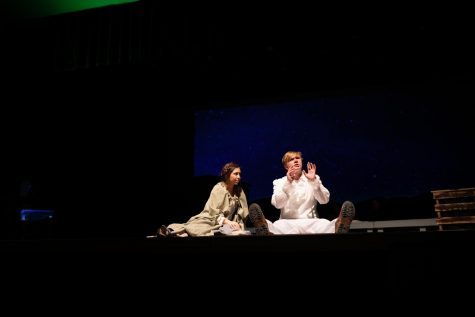 Go support the talented cast by watching their competition on March 6 at 4:00 in The Wylie P.A.C.