Lady Bulldogs Deep in District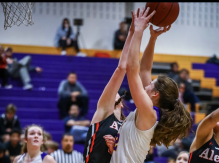 (Feature Image Courtesy of Kerr Broadstreet, WylieSports)
You'd better mark January 31 on your calendar, because there's a home game that you definitely don't want to miss! After a sore loss at Cooper High School on January 14, these girls will be facing off against the Cougars once again at 6:00 P.M. right here in our own gym. The Lady Bulldogs are more than ready for a rematch, and because there will only be two more district games afterward, the stakes are certainly high.
In case you haven't been following our talented ladies as closely as I have, I will provide a brief recap. The Lady Bulldogs are considered a young team, especially after losing seniors Grace Steadman and Abbie Gollihar to injury (thankfully, Gollihar has recovered and recently made her big return to the court!). With the exception of Gollihar and captains Bailey Roberts and Karis Christian, the team is composed of juniors, along with sophomore Kenyah Maroney.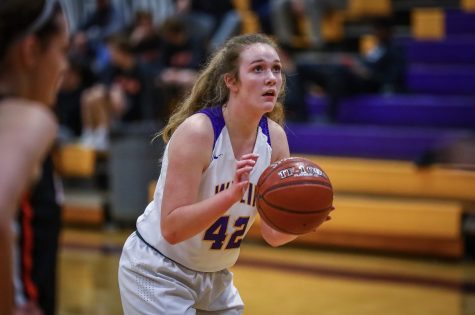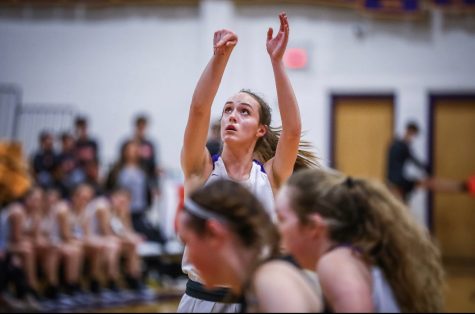 Although this roster is stacked with pure talent, names don't win games— teams do. And, in order for any group of people to become a successful team, its members must be able to depend upon each other as reflexively and faithfully as we trust our own bodies to breathe. This trust does not come naturally to most people; it takes time, patience, and commitment to build, which is one of the reasons why athletes tend to have such strong character. Because a majority of our Lady Bulldogs are new to the world of varsity, they have not had very much time to develop that crucial skill; it would be understandable, then, if their season was not extraordinary.
True to the Wylie Way, however, they would accept nothing less than excellence. They found their rhythm quickly throughout November and December in non-conference games, their chemistry and efficiency improving with every huddle, every shot taken, every second on the court. By the time their first district game rolled around on January 10, these girls had become quite a force to be reckoned with.
Even so, Wichita Falls Rider claimed the victory, as did Cooper in the game mentioned previously. After losing their first two district games, the Lady Bulldogs had the right to be discouraged, but they refused to let these losses define them. As long as the prospect of playoffs was still on the horizon, they would continue to fight.
It is possible that the heart of this team's steadfast spirit lies within its youngest member, the remarkable Kenyah Maroney. I speak with her about basketball on a daily basis, and despite the fact that our conversations are off the record, she personifies their fierce determination with every fiber of her being. In a manner which appears to come naturally, Maroney exudes enough passion, devotion, and positivity for the whole team.
          The late Kobe Bryant, a father and basketball legend who was tragically wrenched from this world far too soon alongside his thirteen-year-old daughter Gianna and seven others on Sunday, January 26, was a major advocate of effort and dedication. He once said, "Great things come from hard work and perseverance. No excuses."
       When applying Kobe's philosophy, our girls are in luck. As I said earlier, there is plenty of talent to be found in the group, but there is even more work ethic. This team has kept its nose to the grindstone, putting in hours and early mornings, weekends and holidays, all in the name of bettering the Lady Bulldogs. 
All of their hard work is certainly paying off. Just three days after losing to Cooper, the Lady Bulldogs defeated Aledo with a final of 35-31. After that, they crushed Wichita Falls High last Friday (January 24), walking away with their heads held high and their spirits even higher after an exhilarating 75-18 victory.
Most recently, they took down Wichita Falls Rider on Tuesday, January 28, wrapping the game up at 50-46. This was an especially refreshing win for our varsity girls because Rider represented both their first district opponent and their first district loss. By conquering Wichita Falls Rider, they have proven to their competitors, supporters, and even themselves that they can do whatever they set their minds to.
Things are looking up for the Lady Bulldogs, who are very optimistic about advancing to the playoffs. The big Cooper rematch is just around the corner now, and they would love your support. If at all possible, I strongly encourage you to attend the game; watching our talented team ignite the court is absolutely electrifying, and I can guarantee that you will be on the edge of your seat from tip-off to final buzzer. 
"Help bring out a big crowd!" encourages Makinlee Bacon, who doubles as both a point guard and a shooting guard for the team.
Remember, the game starts at 6:00 P.M. on January 31, right here at Wylie High School. Admission is only $2 for students and $4 for adults! Every extra face and voice in the crowd will make a difference, so come make some noise for our amazing Lady Bulldogs!
About the Writer
Allison Vogt, Staff Writer
Allison Vogt is a junior at Wylie High School. She loves learning about different cultures, spending time with her family and friends, trying new things,...