It's (Already) the Most Wonderful Time of the Year
When you read the title of this article, you probably thought of the timeless Christmas carol. Perhaps you even sang the words in your head. There is so much excitement buzzing around the holiday season that we can hardly wait to jump into the festivities. In the eyes of a child, Thanksgiving is little more than the mundane stepping stone between trick-or-treating and leaving cookies out for Santa Claus. There is still a child inside each and every one of us, and for that reason, many of us have yet to outgrow our baseless resentment.
Although Thanksgiving does not involve any activities to satisfy your inner child, there is still plenty to appreciate. Just imagine: mouthwatering, homemade dishes gracing the dinner table, which is crowded elbow-to-elbow with the people you love…Pumpkin and pecan pie being served in generous helpings amidst the telling of old, repeat stories that never quite lose their charm…Then, of course, there is Thanksgiving football.
For many in the Wylie community, football has a special place on Thanksgiving Day, and not just from the living room. 
"My favorite Thanksgiving tradition is practicing football on Thanksgiving morning, which we have been fortunate to do many years at Wylie," describes Coach Sandifer, who has served as the high school's head coach for thirty-three years.
 The most recent Thanksgiving Day practice was in 2016, when Wylie's boys made it all the way to the state finals in AT&T Stadium. To this day, Wylie's football players continue to leave their all on the field and walk away with dignity. The community is immensely proud of them and is thankful for how hard they work to represent us well, alongside all of our teams.
In the opinion of Mr. Light, Wylie ISD's superintendent, it is the simple family traditions that matter the most. 
"We gather all of our family together for a meal," he explains. "Everyone brings their favorite dish. For the blessing, we go around sharing what we are thankful for. After the meal, we watch the football games and generally fall asleep!"
    However, when asked what they are most thankful for, the two couldn't agree more.
"I am most thankful for my family," says Coach Sandifer, "and the many freedoms we enjoy every day."
Mr Light adds, "Every year, we need to take inventory of the many blessings we have throughout the year." He goes on to say, "Specifically, as Americans, we have freedoms that others in the world do not have."
The two local legends are spot-on. Regardless of one's political stance, it cannot be denied that the US Constitution grants our citizens a host of unique liberties which, by their very nature, improve one's quality of life. Even those in dire straits are better off than many people in this world, because they are free to think, speak, and act according to their own will. That is certainly something to be thankful for.
While these liberties are intrinsic, they must be defended each and every day. Those who are active in the military, those who have served in the past, and those who paid the ultimate price of freedom deserve our utmost gratitude not only on Thanksgiving or Veteran's Day but every day.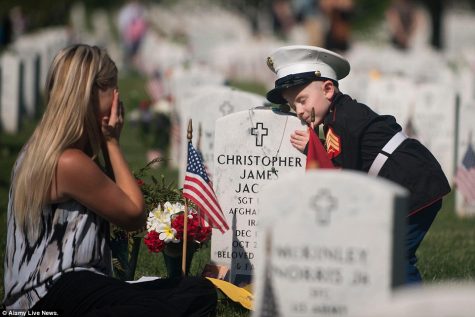 In our busy lives, and particularly during the hectic holiday season, we often lose sight of why we are celebrating in the first place. From Wylie's beloved patriarchs and our tight-knit community to America's military personnel and the protection they provide, there is so much to be thankful for. As you enjoy yourself over the holidays, remember that there are no guarantees in this life. Hold your family especially close, capture memories worth keeping, act with unsolicited kindness, and most of all, lead with gratitude. After all, even though many halls have yet to be decked, it's already the most wonderful time of the year.
About the Writer
Allison Vogt, Staff Writer
Allison Vogt is a junior at Wylie High School. She loves learning about different cultures, spending time with her family and friends, trying new things,...