WHS Tennis Team Serving Aces
For years, the Wylie High School Tennis Team has been a stealthy predator among opponents, their humble demeanor enough to disarm even the most seasoned of competitors.  But don't let their character fool you; the team is brimming with talent, and they are just getting started.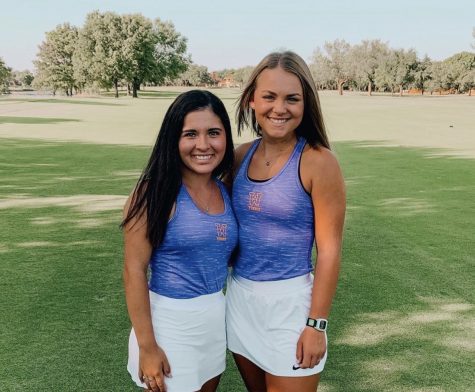 With a quiet grace, these Bulldogs have been demolishing every rival who crosses their path. Their secret? They seek to be worthy not of recognition but remembrance.
Senior and varsity player Annaleah Elias said, "I hope to lead the younger ones in the right direction and be there for them at all times…from on the court to off the court. I want to be a leader everyone will remember that made an impact on the team."
This principle is perhaps what has made the team so successful. In their first district match, they took down Wichita Falls Ryder with an impressive final tally of 17-2. From there, they defeated both Aledo and Abilene Cooper at 19-0. Most recently, they competed against Witchita Falls High School and brought home a victory of 14-5.
To an outsider, victory seems to be handed to them, but none of it would be possible without the remarkable chemistry that binds them together. Describing doubles, junior Leighton Alford explains, "It's all about teamwork between setting each other up for the right spot and encouraging each other when we get frustrated."
Of course, the dynamic she described is not exclusive to a single partnership. "It's different because we don't actually play together even though it is called 'team', but we still all depend on each other," adds Leighton. "We even have to go cheer on our other teammates in their matches because their outcomes matter just as much as whether my partner and I win."
The future looks bright for this star-studded team, who will begin playoffs on October 14th. Wylie's players are already forging a new chapter of the Tennis Team's age-old legacy, and they are ensuring that it is well worth the read.
About the Writer
Allison Vogt, Staff Writer
Allison Vogt is a junior at Wylie High School. She loves learning about different cultures, spending time with her family and friends, trying new things,...