An Un-Fore-Gettable State Win
Hang on for a minute...we're trying to find some more stories you might like.
        For the 2nd year, Wylie Lady Bulldogs Golf advanced to State, with one esteemed team member taking home the prized first place. The ladies have been practicing and competing in tournaments since the early spring and have brought much success to the Wylie Golf program, leading them through district and regional competitions to deliver them at the state competition in Georgetown. This tournament marked the first time the girls had competed at such a high level with the elevated competition of 5A. Arin Zachary, a senior and 4 year veteran of the team, talked about this year's increased difficulty. "It was definitely tough, nothing was ever guaranteed," she explained. "5A proved to harbor much more talent and competition than 4A, but we welcomed the challenge."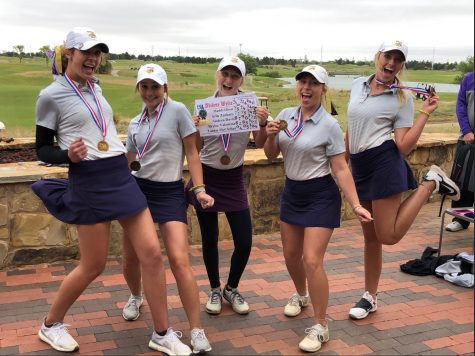 The team took home 3rd place in the Texas State UIL competition, a great honor built by their dedication and love of the sport. However, the girls agree the experience and the community they built together was far more rewarding. "I've had so much fun being able to determine how hard I want to work, then being able to share that with my team," said Zachary.
        One member of the team returned home with more than the third place team victory. Maddi Olson out-played 72 girls from across the state of Texas over 2 days to snatch the first place, individual state champion award. "Winning state is obviously an amazing feeling no matter what, but it's definitely very magnified when you're surrounded by the people you love and your team," she says. "I actually wouldn't have even made it out of regionals without my team."
         The girls will continue on their legacy by practicing and performing better than ever before, even though they'll be short a few players. A large portion of the team is composed of seniors, who, though sad to depart, have hope for the future of the team and will continue to play the sport they love. "Being on a golf team is extremely rewarding, as I've been taught countless life lessons that I'll carry with me, both on and off the course," Zachary closes. "These girls I've played with are truly my best friends, and I've made so many friends through this sport, which means more to me than anything."

Photos courtesy of Maddi Olson