Last Hurrah for 2019 Wylie Choirs
As the lights dimmed on stage, a crowd of hands froze in the air. The chests of dozens of students rose and fell in sync with their heavy breathing, exhausted after their performance. For many weeks, all Wylie choirs have been working hard on choreography and music for the Wylie Pops Show. The spring show presents the choirs together performing numerous numbers, showcases individual talent, recognizes musical achievements for the school year, and acts as a formal goodbye to the seniors. The show was a testament to all of the choirs' dedication to giving a performance worth seeing, and it helped unify the choirs before the end of the school year.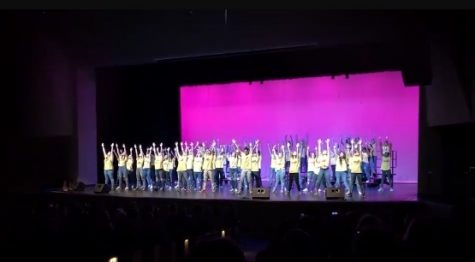 Every high school choir is different. This year's group is different from the last, and it will be different from the next—no choir will have the same sound as this one. On the day before the concert, Ms. Mouat, the choir director, had the varsity mixed choir sit down and give words of encouragement. This show would be the last time this unique group performed together. For seniors, spring show was the last time they would perform. Everyone knew how much time had been consumed in preparation for their performance, and they owed it to themselves to embrace the inevitable mistakes and have fun with it. Many noted that the road to spring show has been a long one, but it's the reward for all of the hard work the choir has done this school year.
Wylie, for the first time in 5A, competed in the UIL Concert and Sight-Reading competition and earned sweepstakes for two of the choirs. The choirs worked tirelessly and rehearsed for weeks on end, and their efforts paid off. This show was the same: hours of rehearsals after school, days of moving through music, and endless notes on how to make this performance the best it could be.
As the showcase approached its end, the general feeling shifted from one of excitement to one of sentimentality. In every spring show, a song of the seniors' choice is performed as a formal goodbye before graduation. It's one of the last songs in the show, and it serves as recognition of each individual senior and their growth throughout school. Choir has acted as a bridge between the classes and has helped build strong friendships bound to last a lifetime. The senior song was a difficult song to sing through. Many sang the song through tears. Afterward, behind the closed curtains, hugs and well wishes were exchanged among numerous seniors and the friends they've made over the years. In an instant, people moved back to their places for the last number and gave a performance for all to remember.