Tennis Mixed Doubles Team Prepares For State
Our Wylie tennis program has once again beaten the odds and stood their ground against competition despite the difficult jump to 5A.  The year began with a trip to state during team season, and the amazing year continues with a mixed doubles team on its way to state during individual season.  Analeah Elias and Lane Adkins, the state bound team, are busy preparing for the state competition on May 16th and 17th in College Station. Elias said, "The feeling is indescribable.  It's awesome to be going back."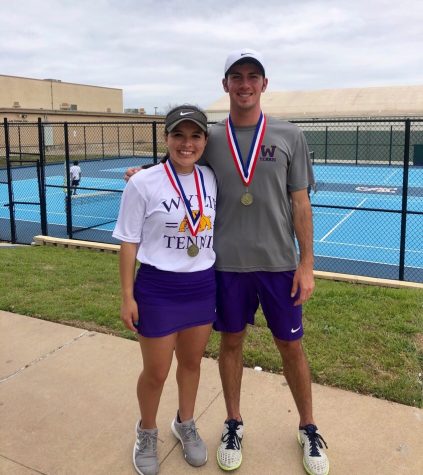 Elias went to state as an individual both her Freshman and Sophomore years and placed 3rd both times.  This year as part of a mixed doubles team, she is determined to outperform her past accomplishments.
"I am very confident that my partner Lane Adkins and I can take the next step towards winning a state title," she said.
Both she and Adkins have been practicing harder than ever and readying themselves for the unique challenges of state, one of which is the sweltering College Station heat.   
"We have been preparing for state this past month, by going to extra lessons after our school practices and by playing extra practice matches.  We have been conditioning more this year to prepare ourselves for the A&M heat we experienced last year at state."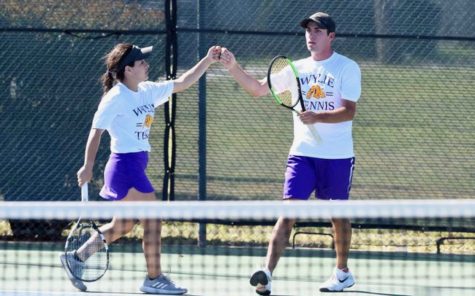 Making it to state three years in a row is no simple feat, and no one knows perseverance more than Elias. When asked for her advice on accomplishing one's own goals, she answered from her own experience.
"You need to be able to visualize yourself achieving your goals and imagine how you will feel once they are achieved.  There will be many failures along the way, but you have to learn from those mistakes and keep working toward your goals staying positive along the way and never giving up."
All Photos Courtesy of Analeah Elias
About the Writer
Elise Grimland, Staff Writer
Elise Grimland is a junior and second year member of The Paw Print staff. She enjoys being outside, riding dirt bikes with her family, and volunteering...