Wylie Student Earns Title of Abilene Idol 2019
For many people, stage fright is a real fear. But for Mason Kerby, the experience of stepping onto a stage with bright lights shining down on him is exhilarating.
Kerby, a current freshman, has grown up around music. Since he was little, he has played, sung, and performed whenever given the chance. "I have performed at both Sharon's BBQ and Lytle Land & Cattle, and I also sing in my church's youth band regularly," says Kerby, but he wanted to take the next step.
Abilene Idol is a combination of a singing competition and fundraiser supporting youth programming for Chorus Abilene's 3 choirs for young singers in grades 1-12. This competition every year funds multiple scholarships for children in the program. After advancing through a large number of auditions, contestants are given the opportunity to perform at the Abilene Convention Center for a panel of three judges and many audience members. The scoring system has three parts: 20% of the finalists' score is based off of how many $1 votes they can receive from people voting online at the Abilene Idol Website. Another 20% of their score is from the audience. Each person who has bought a ticket receives a text vote and can vote for any of the 15 contestants. The final 60% of a finalist's score is the total score they receive from 3 judges, resulting in a large majority of the total score being weighted by performance.

Kerby had auditioned for Abilene Idol last year but unfortunately had the flu, so his audition didn't go as planned. This year, however, he planned on redeeming himself. "I've been preparing for months," said Kerby, "so I showed up at the mall on Saturday, February 2nd, and after much anxiousness, I got to sing my 2 minute audition." Along with 14 other contestants, he was selected to perform at the Abilene Convention Center on February 23rd. 
"The weeks leading up to the finale were very short—too short. The next thing I knew, we were doing sound check/rehearsal the morning of," said Kerby. While his nerves were eased slightly by the fact that he has performed in front of large crowds before, Kerby described this feeling as one like no other. Out of the 15 singers, he was singing 4th in line. Because it's highly encouraged to do so, Kerby sang the same song that he auditioned with- "Speechless"  by Dan + Shay. 
When describing the time after all 15 people finished singing, Kerby said that "the minutes leading up to hearing the results felt like hours." Randy Williams, the Master of Ceremonies (MC), began to congratulate all the participants, and announced Kelton McGee as the 3rd place winner and an eight-year-old boy, Evan Calk, as the 2nd place winner.
"After he said this and as the crowd cheered for them," said Kerby, "I thought to myself, "Kelton and Evan were really really good! Who got first if one of them didn't?" Then, Williams said into the mic, "..And the 2019 Abilene Idol is.." and after many torturous seconds of silence, he said, "MASON KERBY!"" 
Right then, Kerby knew that all of his hard work had paid off. The crowd roared, and he buried his face in his hands. "I was stunned, speechless, and shocked," noted Kerby, and was then handed the trophy and a $600 check. After stepping up to the microphone and thanking many people, he sang the last chorus to "Speechless" A Capella style. 
When asked about the overall experience of participating in the 2019 Abilene Idol competition, Kerby says, "It was the perfect night for me and gave me an experience I'll never forget. What's next? I can't tell you that because I don't know myself. But for now, I'll take the title as the Abilene Idol."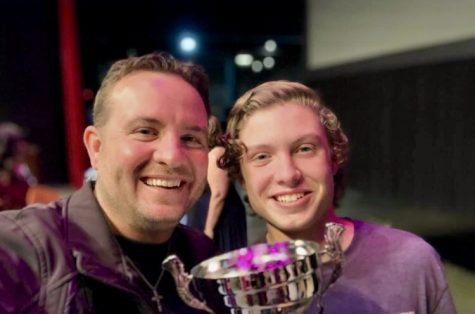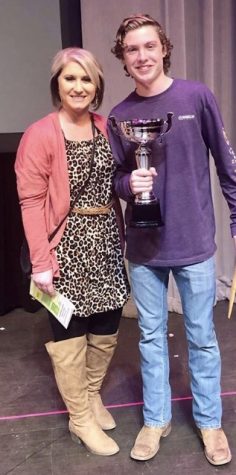 Kerby would like to give recognition to the following people:
Evan Calk, who was 2nd Place; Kelton McGee, who was 3rd Place; and the other 12 finalists in the competition, 

Karen Hogue,

Jeff Nelson, and

Cindy Hudson, who judged this year's Abilene Idol Competition,

William Reed, Abilene Idol 2018; Randy Williams, Master of Ceremonies (MC); Jeff Nelson, Judge; Cindy Hudson, Judge; and Debbie Vanadore, Abilene Idol 2012; who all had special performances that night,
and last-but certainly not least-

 Gwynn Haseltine,

Joyce Cole,

Monique Trinidad, and

Jenni Jamison, who formed this year's Abilene Idol Committee. 
About the Writer
Maddie Cole, Staff Writer
Maddie Cole is a junior, and this is her second year on staff. She is involved in Destination Imagination, Student to Student, NHS and Student Council....