A Night To Shine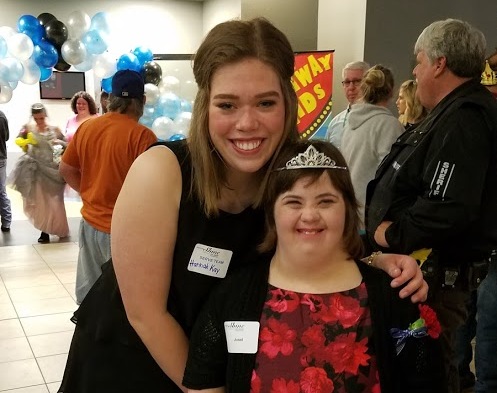 Hang on for a minute...we're trying to find some more stories you might like.
"We were created by love, in love, and for love."
Tim Tebow
Cover Image: Senior Hannah Kay Kirby with her beautiful buddy Janel
      For the almost ⅕ of the world's population that already often feels as if it is an afterthought, opportunities like prom typically fail to accommodate it and lack a focus on making it feel important and equal on such an important night. Enter Night To Shine, a program sponsored by the Tim Tebow Foundation aimed at creating a safe and comfortable dance for those with special needs, in which they can feel meaningful and important beyond their disabilities. Abilene is fortunate enough to be home to the good hearts of Beltway Park Church who annually host a Night To Shine in their south facilities. This year, the event drew record numbers of both attendees and volunteers, greater than any year past. Many of Wylie's high school students took part in this great cause and donated their time and energy into making this Night To Shine truly a night to remember.
To see the highlights of last year's night to shine around the world, watch the video below:
     Senior Sarah Wolfe was one of the volunteers assigned to be a "buddy" paired with a guest of the prom. She recounts what called her to take part in this event. "I have known several people who have either gone as a guest or as a volunteer in the past who found it very rewarding, so I thought it would be perfect!"
     Guests at Night To Shine 2019 were given the full royal experience: Limos and elegant cars waiting to escort them to a red carpet lined with "paparazzi", a wide variety of delicious food for dinner, live music, game and karaoke rooms, and a DJ and dance floor to top it all off. Parents of guests were offered a rest and relaxation area where they could let their stress melt away with a massage. Every aspect of the night was centered around the enjoyment and comfort of the guests as well as treating them like the Kings and Queens they are.  Wolfe said her favorite part of the night was "seeing everyone on the dance floor acting as equals." She elaborated, "The guests were out there with their crowns on, having the best night ever, and any of the volunteers were jumping right in too. The smiles on everyone's faces were priceless."
       All guests and volunteers seemed to have left with a bright smile and a full heart. Wolfe says it was "a very rewarding experience. Being able to put the spotlight on a group of people who truly deserve it yet don't get to be there very often was such a humbling experience."  Sarah says she "would absolutely do it again." She, along with countless volunteers and guests and Beltway Church itself, look forward to years of Night to Shine to come.
About the Writer
Katie Shaw, Staff Writer
Katie Shaw is a junior and third-year member of The Paw print staff. Her life revolves around Hockey, especially the Nashville Predators, and Taco Bell....