A Practically Perfect Fall Musical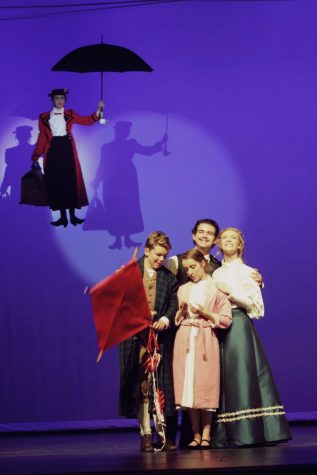 Every year, the Wylie Theater Department performs a beautifully put together homecoming musical. This year they delighted audiences with the tale of Mary Poppins. The show was beautifully lead by none other than Anna Claire Boone in the role of Mary Poppins. She said, "It was very intimidating to play such an iconic role," and that she "enjoyed it" and was "so grateful for the opportunity." Boone was fantastic on and off stage as she helped put Mary Poppins together.
When asked about how the rehearsal process went she informed us that "it was challenging because the show was more demanding than anything we have done before." In the end, the extra time spent and challenges faced showed in the final production. One scene that gave a testament to all the hard work put into this show was "Step In Time". Spectators would have never guessed that the majority of the tappers had no tap experience at the start of this production.
Another aspect not to be over looked was the acting. Kyla Sutton never ceased to amaze and amuse crowds with her comical portrayal of  Jane Banks. Watching the heart wrenching "Feed The Birds" or the lively "Jolly Holiday", one could not help but be entranced with the life of Miss Banks. Sutton truly was practically perfect for the role.
The final element that pulled the show together was the incredible tech. With the assistance of the new technical director Robert Pitney, and the new theater, the cast and crew was able to do some amazing things such as fly props, sets, and Mary Poppins! "It was so surreal to have the umbrella, hat, and to be up twenty feet in the air!" Boone commented.
By looking at tech, choreography, singing, or acting, audiences would agree that overall, the Wylie Theater Department was able to once again pull off a beautiful musical.