Overworked and Underpaid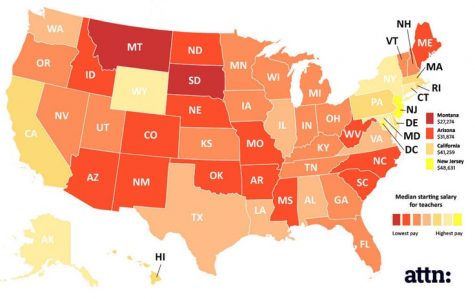 In 1970, on the cracked sidewalks of New York City,  an uprising lawyer entering into a prestigious law firm and a starting teacher at a meager public school were paid almost the same wages with a $2,000 gap. Today, the same lawyer, including bonuses and salary, would make $160,000. Meanwhile, that same teacher would only make roughly $45,000.
Teachers nuture the generations to come as they teach them not only the fundamentals of education but life lessons along the way. In some cases, teachers are the reason that some children are alive today.
For instance, a teacher may notice that a student is coming to school with bruises and is emotionally unstable or unusually distant from the rest of the class. They then could pull the student out of a possibly harmful situation. Such a change as this could change a child's life forever.
Unfortunately, since teachers are drastically underpaid for such an important role in society, this can drive away college students that could be phenomenal educators from choosing to be a teacher. The low salary offered can also make it hard for teachers to financially make ends meet outside of school. Not only do they have to pay for various bills, clothing, and food, but they also have to pay for the high cost of schooling required to be a teacher.
Currently, the average starting salary for teachers in the U.S. is    $38, 617, but the average salary in total is roughly $45,030. For the long, laborious hours and the cost of living teachers endure, starting teachers should make closer to $40,000 annually with raises accumulating up to $70,000 over the work-filled years of service.
While the U.S. government readily spends $1.7 billion annually on standardized testing, teacher salary still remains at a suffocatingly low amount. Teachers statewide are calling for a change.
Teachers are now walking out of schools to protest their low salaries. This movement was successful for teachers in West Virginia, and now nationwide, teachers are calling for similar action.
Now that their voices have been heard throughout the nation and the White House, America awaits the outcome. Will this be another movement that goes stale, or will this outcome become a pivotal moment in American history? The decision has yet to be made and now concerned teachers await the decision anxiously.