2021 NFL Draft: Mock Draft
March 29, 2021
With the NFL draft only a month away, fans across the nation can hardly contain their excitement. This draft will be a "return to normal" in and of itself, as both players and fans will be allowed to attend. It may also be a historic draft with regard to quarterbacks taken early; potentially, the first four picks could all be quarterbacks.
However, like everyone else, teams are facing consequences resulting from the pandemic. Players are being humbled on the market, earning less money than they thought they would have. All teams lost about $10 million in salary cap this year due to a lack of revenue, and for that reason, teams will have to critically assess their needs and prioritize accordingly, both in free agency and in the draft.
In the spirit of draft season, my sources and I took it upon ourselves to create a mock draft along with a brief analysis of each team's standing and pick. As a disclaimer, note that mock drafts are made out of the present, assuming that no trades are made. However, trades are inevitable, and therefore this mock draft is purely speculative.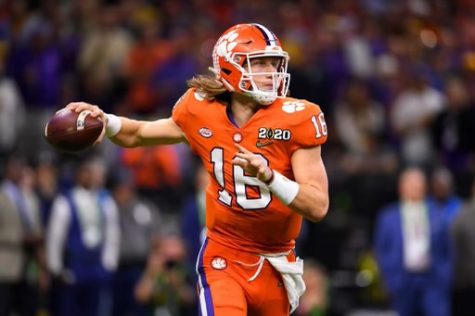 1. Jacksonville Jaguars
Trevor Lawrence, Quarterback (Clemson)
The Jaguars are in need of a spark. They have a new coach, Urban Meyer, and want to secure Trevor Lawrence, the surest quarterback prospect since Andrew Luck, who came out of Stanford in 2012. 
2. New York Jets
Zach Wilson, Quarterback (BYU)
The Jets have a big decision to make regarding the quarterback position. They could roll with their 2018 3rd overall pick, Sam Darnold, who is still relatively young and truly hasn't had the best chance to succeed (but now that they have a new coach, he could finally get that chance.) If they were to keep Darnold, the Jets would want to utilize this pick to get him a playmaker or protection. With that said, it is more likely that they will find a trade partner for Darnold this offseason and take Zach Wilson to be their quarterback to start fresh. All indications thus far lean to the latter.
3. San Francisco 49ers
Trey Lance, Quarterback (NDSU)
We can safely assume that the 49ers will take a quarterback, and we can also assume it won't be Trevor Lawrence or Zach Wilson. The 49ers traded up, as they were initially at 12th but recently made the move up to 3rd. They will pick from Justin Fields, Trey Lance, or Mac Jones as their quarterback of the future. They have tentatively committed to Jimmy Garoppolo, but he will almost definitely be traded after this season, if not sooner. As for the prospects, Trey Lance has the highest upside next to Trevor Lawrence; the 49ers will likely take Lance to groom him for a season behind starting quarterback Jimmy Garoppolo.
4. Atlanta Falcons
Justin Fields, Quarterback (Ohio State)
The Falcons need to start thinking about life post-Matt Ryan, so they might take a quarterback, or they could take one of this draft's potent non-quarterback prospects to support Ryan. Alternatively, they could trade back to a team that might want to move up for a quarterback (the benefit of this would be getting more picks). This is regarded as a luxury position. The Falcons may opt to select hometown kid Justin Fields as their future quarterback and have him sit behind seasoned quarterback Matt Ryan until he eventually retires.
5. Cincinnati Bengals
Penei Sewell, Offensive Tackle (Oregon)
Like Atlanta, the Bengals are in a good tradeback position. However, they desperately need to protect new quarterback Joe Burrow, so it is likely that they will just pick from the rich crop of non-quarterback talent at the top of this draft. While they may be tempted to take a playmaker for Burrow, they will likely choose to protect him and give him the best chance to have a long NFL career. They may do this by taking Penei Sewell, who is thought to be the best offensive tackle prospect since Hall of Famer Anthony Muñoz.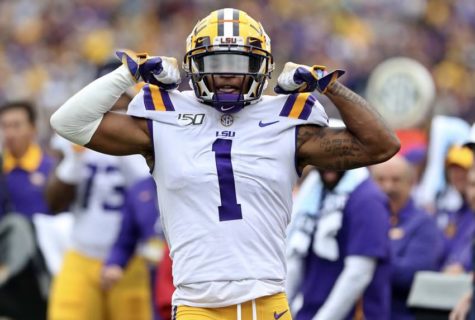 6. Miami Dolphins
Ja'Marr Chase, Wide Receiver (LSU)
Chris Grier is considered by many to be the best General Manager in the league at this point. He has given the Dolphins an incredible amount of draft capital over the next several years (six first-rounders in the next three drafts, to be precise) and will be able to fill out his roster with plenty of young talent. It is speculated that they will commit to young quarterback Tua Tagovailoa and give him a playmaker by selecting the best wide receiver in this class, Ja'Marr Chase.
7. Detroit Lions
DeVonta Smith, Wide Receiver (Alabama)
The Lions need a lot of help, and they likely won't be contending very soon. They dealt quarterback Matthew Stafford to the Rams for Jared Goff and multiple picks, opting for yet another rebuild. After losing Kenny Golladay and Marvin Jones Jr. in free agency, they may select Heisman Trophy winner DeVonta Smith.
8. Carolina Panthers
Kyle Pitts, Tight End (Florida)
The Panthers would really like to upgrade the quarterback position, so look for them to try to make a big push for disgruntled Texans star Deshaun Watson. But after missing out on the top four quarterbacks in this draft, the Panthers may instead opt for the best tight end prospect in recent memory. The addition of Pitts will inevitably make any team's offense significantly better and would be an absolute steal at eighth overall.
9. Denver Broncos
Jeremiah Owusu-Koramoah, Linebacker (Notre Dame)
It's no secret that the Broncos might not be too content with 2019 second-round draft pick Drew Lock. They will also likely make a run at Deshaun Watson and may also attempt to trade up in this draft to select one of the top four quarterbacks. They could use an upgrade on the inside linebacker position, so it has been speculated that they will take the first defensive player in this draft at ninth overall.
10. Dallas Cowboys
Patrick Surtain II, Cornerback (Alabama)
The Cowboys always need help in the secondary. They may take the first corner off the board in Surtain II, who performed astoundingly at the Alabama pro day. He would step in right away and shine for Dallas.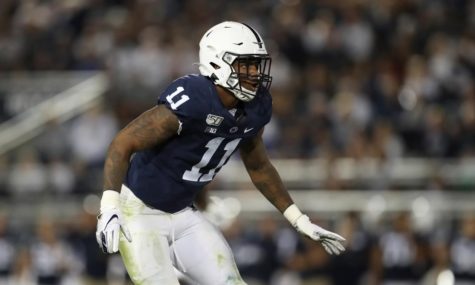 11. New York Giants
Micah Parsons, Linebacker (Penn State)
The Giants are really sitting pretty after nailing free agency by bringing in Kenny Golladay, Adoree' Jackson, hashing out an extension with defensive end Leonard Williams. However, they could still use an upgrade at the linebacker position and can hopefully nab Parsons at eleventh overall.
12. Philadelphia Eagles

Jaylen Waddle, Wide Receiver (Alabama)
The pressure is on for the Eagles. If whoever they select here does not pan out, jobs might be in serious jeopardy. After committing to Jalen Hurts and desperately needing playmakers for him, they took themselves out of "Kyle Pitts and Ja'Marr Chase" range and moved back six spots for an additional future first-round pick. They may take Jaylen Waddle in hopes that he can return to his pre-injury glory.
13. Los Angeles Chargers
Christian Darrisaw, Offensive Tackle (Virginia Tech)
Although the Chargers could also go for a cornerback to replace the recently released Casey Hayward, I predict they will opt for a sturdy left tackle for their young star quarterback Justin Herbert. Choosing to improve the offensive line here would definitely be a smart move because it would substantially improve their offense.
14. Minnesota Vikings
Rashawn Slater, Offensive Tackle/Guard (Northwestern)
Going for the offensive line is almost a requirement for the Vikings, as they have essentially rebuilt Mike Zimmer's reputable defense via free agency while neglecting the offensive line. Hopefully, they will take the most versatile high-end offensive lineman, as Slater can effectively play both offensive tackle and guard.
15. New England Patriots
Mac Jones, Quarterback (Alabama)
While it is entirely possible and even likely that Jones will go much higher in the first round than this, the Patriots are probably the best fit for him. He is exactly the kind of guy that Bill Belichick wants to bring in to be their franchise quarterback for the future.
16. Arizona Cardinals
Caleb Farley, Cornerback (Virginia Tech)
It's pretty close between Farley and Surtain II as far as being the top corner, and I could easily see Farley going before Surtain II in this draft. But for the sake of this mock draft, I predict that the Cardinals will take Farley to replace the departed Patrick Peterson.
17. Las Vegas Raiders
Kwity Paye, Edge (Michigan)
The Raiders desperately need help on defense, as they lacked in all defensive levels in 2020. Hopefully, they will take the best edge rusher available, as a good pass rush can make any secondary look considerably better.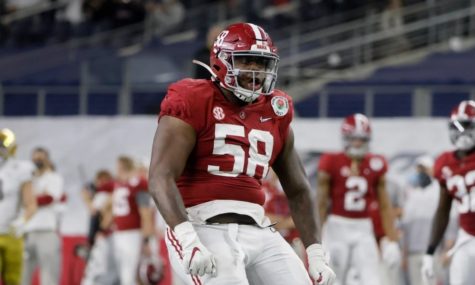 18. Miami Dolphins
Christian Barmore, Defensive Tackle (Alabama)
The Dolphins are likely to take the best player available at this point while also filling the void created by the departure of Davon Godchaux in free agency. Ideally, Barmore would make an excellent addition to Miami's already-formidable defense.
19. Washington Football Team
Azeez Ojulari, Linebacker (Georgia)
Washington may go for an offensive lineman here, but the Football Team could really use some help at linebacker as well. For this reason, I predict that they will take Ojulari at nineteen and take an offensive lineman later on in the draft.
20. Chicago Bears
Alijah Vera-Tucker, Guard (USC)
The Bears are looking at a rebuild, and their championship window has likely closed. They may bolster the offensive line by taking Vera-Tucker, who is thought to be the best pure guard in this draft.
21. Indianapolis Colts
Gregory Rousseau, Edge (Miami)
After losing Denico Autry and potentially Justin Houston in free agency, the Colts need some help on the edge. Rousseau has the highest upside at the position in this draft and has even been compared to Myles Garrett.
22. Tennessee Titans
Rashod Bateman, Wide Receiver (Minnesota)
The Titans suddenly have a glaring need at the wide receiver position after losing Corey Davis and Adam Humphries. I predict they will select Bateman here to have him play alongside AJ Brown and Josh Reynolds.
23. New York Jets
Jaycee Horn, Cornerback (South Carolina)
While they definitely need help at the running back position, I predict that the Jets will decide to put that issue on the back burner in order to take a corner with a lot of potential. He would instantly improve their secondary.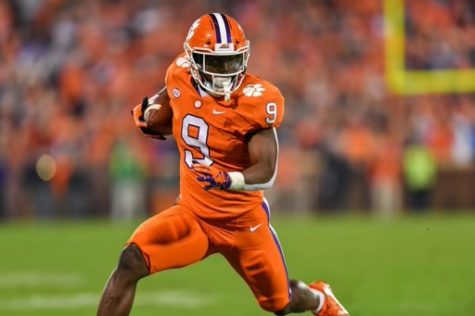 24. Pittsburgh Steelers
Travis Etienne, Running Back (Clemson)
The Steelers are on a downward trend, and this will potentially be Ben Roethlisberger's final season. They desperately need a running back after the departure of James Connor, so I predict that they will take the best running back in this class. Etienne has been compared by many to the Saints' Alvin Kamara.
25. Jacksonville Jaguars
Daviyon Nixon, Defensive Tackle (Iowa)
This is another pick the Jaguars acquired from the Rams for Jalen Ramsey. The Jaguars' rebuild is coming along nicely, so they may decide to reinforce the trenches with a strong defensive tackle here at twenty-fifth overall.
26. Cleveland Browns
Wyatt Davis, Guard (Ohio State)
As a team with no glaring holes this season, the Browns could potentially roll the dice on a top-tier player recovering from a serious injury. The Browns may do that here with Davis, who would have likely been a top-fifteen pick had he not been injured in the national championship game.
27. Baltimore Ravens
Alex Leatherwood, Offensive Tackle (Alabama)
The Ravens still need to find a trade partner for Orlando Brown Jr., who still wants out as he desires the opportunity to play left tackle. I predict that they will effectively replace him with Leatherwood at right tackle and welcome the return of a recovered Ronnie Stanley back at left tackle.
28. New Orleans Saints
Zaven Collins, Linebacker (Tulsa)
Although they could certainly give Jameis Winston and Taysom Hill some better weapons on offense, the Saints may opt to do that later in the draft and take Collins here at twenty-eighth. 
29. Green Bay Packers
Creed Humphrey, Center (Oklahoma)
While Aaron Rodgers might beg for an upgrade at the wide receiver position once again, I predict that the Packers front office will effectively replace former All-Pro center Corey Linsley with Creed Humphrey.
30. Buffalo Bills
Pat Freiermuth, Tight End (Penn State)
I suspect that the Bills will give Josh Allen another weapon in Freiermuth, who would be a significant upgrade over the likes of Dawson Knox and Jacob Hollister.
31. Kansas City Chiefs
Samuel Cosmi, Offensive Tackle (Texas)
The Chiefs needed to create some serious cap space to make a run at Joe Thuney, but that came at the expense of starting tackles Eric Fisher and Mitchell Schwartz. They may address that here by bringing in Cosmi as a day-one starter at left tackle.
32. Tampa Bay Buccaneers
Dayo Odeyingbo, Edge (Vanderbilt)
At the moment, the Buccaneers have no holes and no problems. They managed to resign virtually all of their soon-to-be free agents and will almost certainly make another deep playoff run this year. You can never have enough quality players on the edge, so I predict that the Buccaneers will take Odeyingbo here.
And that's a wrap, ladies and gentlemen!
The 2021 NFL Draft will begin on Thursday, April 21 at 7:00 p.m. Make sure to tune in— you don't want to miss it!