Wylie Pure Gold Band Gets New Directors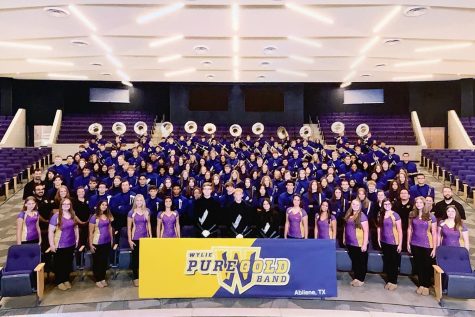 Earlier this year, Kyle McDonald replaced Michelle Lessing as head band director of the Wylie Pure Gold Band. Before coming to Wylie, Mr. McDonald worked at a 5A school in Amarillo for five years. Since he was appointed, Mr. McDonald has done his best to keep most things the same, trying to make everyone comfortable. So far, the band has put on five performances, three of which were half-time shows. In the weeks leading up to the first football game, the band and the directors worked hard to make sure everything was as good as it could be. With Mr. McDonald leading the rehearsals, the band has shown incredible potential in their marching and playing. When asked about his goals for the band, Mr. McDonald answered, "As far as Area, we want to place top five." The students have also been responding positively to Mr. McDonald's teaching techniques with many comments on how much they enjoy his more relaxed style and how he engages with and gets to know his students. Under Mr. McDonald's supervision, the band has worked their way through two movements of their show "Another Brick in the Wall" by Pink Floyd. With their first competition approaching fast, everyone is working hard to make sure everything goes well.
Along with Mr. McDonald, three other new staff members have joined the team. Mr. De La Garza, Ms. Garcia, and Mr. Murillo are the newest additions to the Wylie Pure Gold Band staff. Mr. Murillo is working as the temporary percussion instructor at the High School as well as teaching at ACU; Mr. De La Garza is working at the East Junior High with Ms. Lietz, and Ms. Garcia is assisting Mr. Brannan at the West Junior High. These three have been a great help to the band and the directors.
With the season just kicking off, the band has one more movement to learn until they can start really fine tuning the show. Even though there are only three games finished and gone, they have been on a roll and moving fast. We hope to see a great season and to see some great marching out there!