Spotlight on Music with Maria Labiran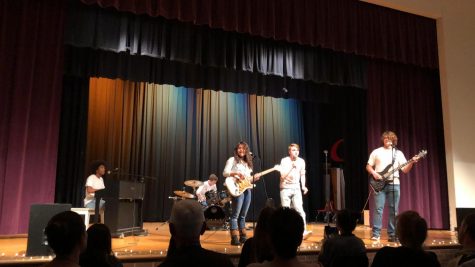 Our school is full of very talented students. One junior, Maria Labiran, is extremely gifted in music. Not only can Maria sing, she plays guitar, trumpet, drums, and piano. Music is an important aspect in Maria's life, and a few weeks ago, she was able to share this part of herself with our Wylie community.
April 16th was a night of both nerves and excitement for many students who competed in our first High School Talent Show. After several acts showcasing a variety of talents, Maria and her fellow jazz band members were the last to perform. Hudson White, who plays bass, had the idea to compete in the talent show with Mark Huffines on vocals, Earron Pye on piano, Zach New on drums, and Maria on guitar. The group rehearsed their choice song, Bohemian Rhapsody, only three times before the night of the show. From the crowd, one would never guess such a fact. The five musicians put on such a great performance and had so much fun in the process.
Maria said that although the band was a little nervous before going on stage, the feeling of performing in front of people is exhilarating. They had decided beforehand to "just go for it" and put on a memorable show for the crowd. Obviously, the band achieved their goal, having won first place in the competition. According to Maria, everyone in the band loves the thrill of playing live music, and the winning part was just a bonus.
Even if it was just a bonus, the group of such passionate musicians was more than deserving of first place. These students were able to use their talents for the enjoyment of others, something very admirable. Maria describes music as "alive, a living mechanism that is able to sink deep down someone's soul." As long as people like Maria continue to express themselves through music, our world will be made better and more beautiful.
About the Writer
Mattie Smith, Staff Writer
Mattie Smith is a senior and has been a member of the Paw Print staff for four years. At school, Mattie is involved in U.I.L. She loves spending time with...